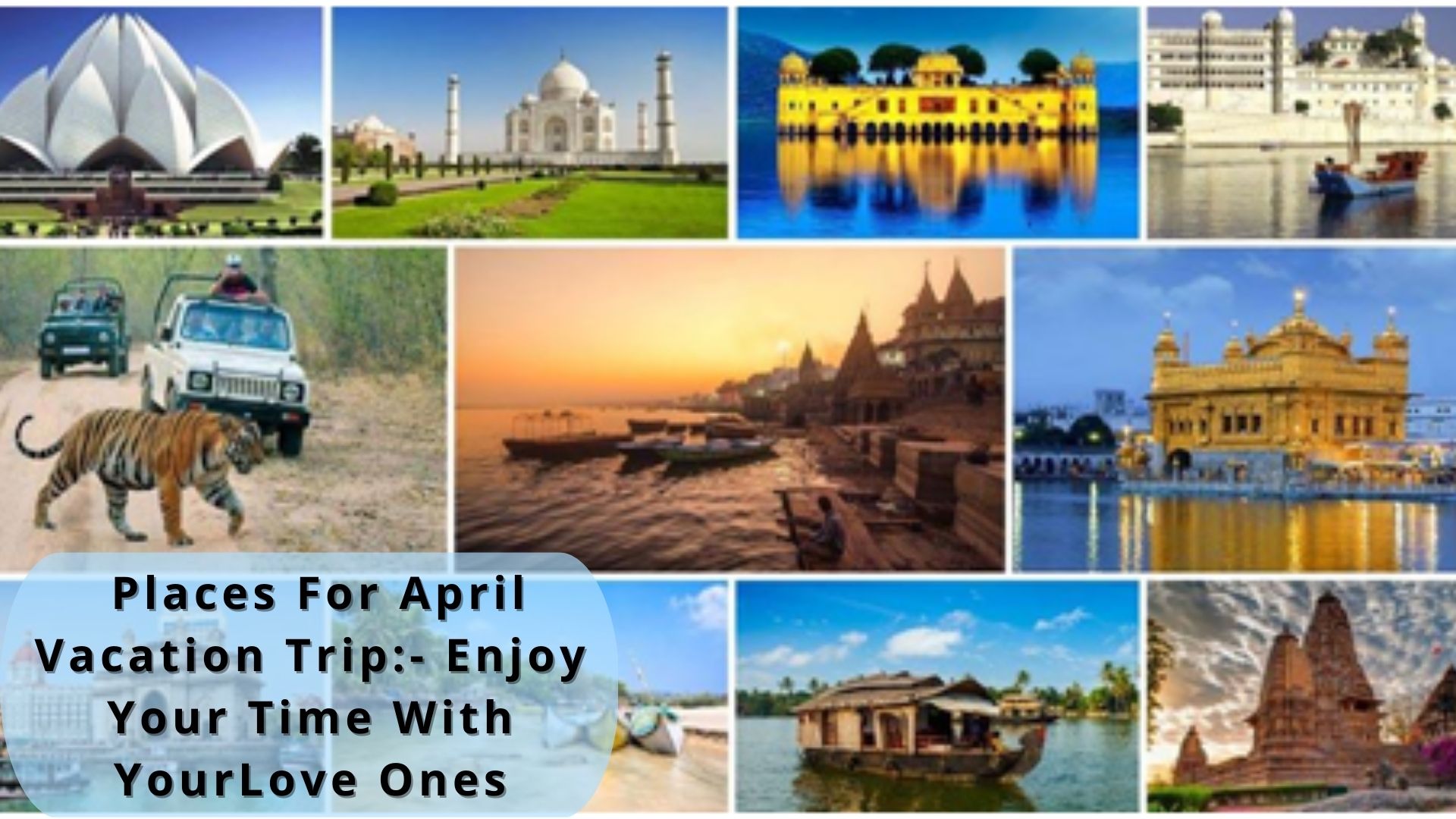 Top 15 Places For April Vacation Trip:- Enjoy Your Time With YourLove Ones
The month of April, which marks the start of India's summer season, is when the sun shines brighter and the flora and wildlife sigh with contentment. Even if some parts of India get a little warm during this month, there are some that appear quite stunning. However, there is little tourism nationwide because of the start of the new fiscal year and the start of classes. The April vacation trip might be rewarding with fewer tourists, and guess what? It will also prove to be cost-effective. So go ahead and start making travel plans to one of the best travel destinations in April listed below!
Udaipur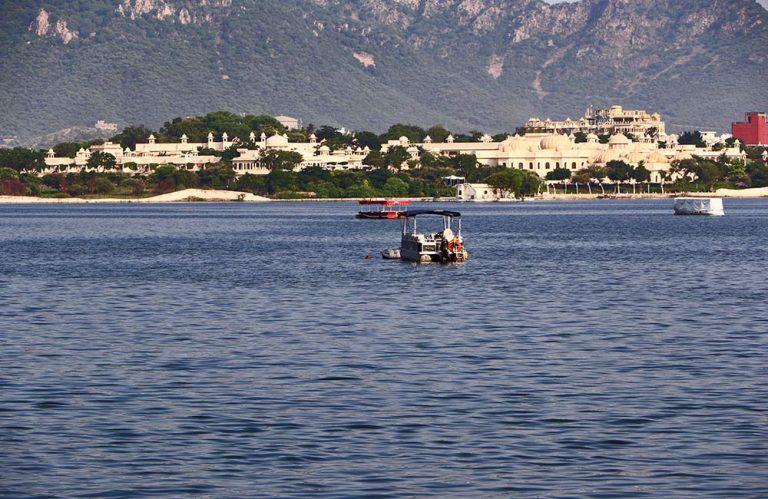 The "Venice of the East" or the "City of Lakes," Udaipur is renowned for its centuries-old regal palaces, artificially created dazzling lakes, and meticulously managed gardens. Due to its former status as the Mewar kingdom's capital, the city has significant historical significance. It is advised to visit Udaipur in the winter months because the city is quite hot and sunny in the summer. However, April offers lovely evenings, fewer congested highways, and affordable accommodation rates, allowing you to travel around it at your leisure.
Dalhousie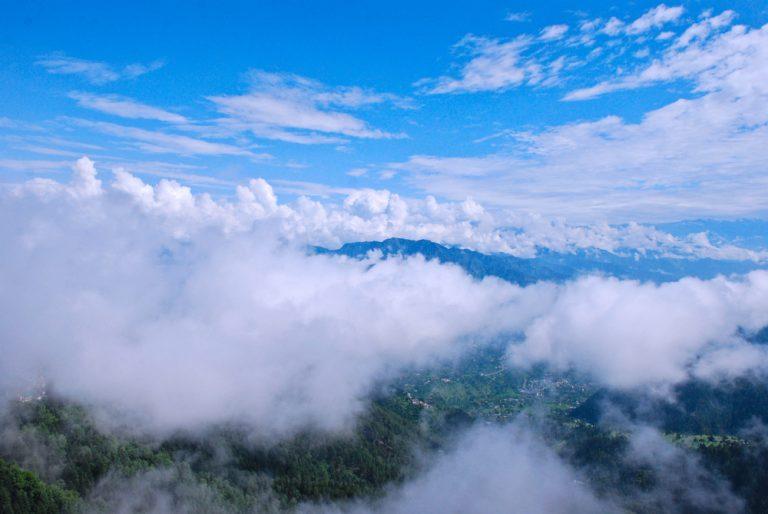 The picturesque town of Dalhousie, which is renowned for its colonial-era architecture and verdant surroundings, is located in the Himachal state's Dhauladhar Mountain Range. In addition to those seeking calm, Dalhousie attracts a large number of adventure seekers due to the town's availability of sports including horseback riding, paragliding, and trekking. Although it is among the top places in India to visit in April, March and May are very wonderful.
Manali
Manali, which is surrounded by stunning hills and a lot of vegetation, is one of the greatest places to go on a honeymoon in India in April. Every year, a large number of tourists come to this hill town to explore its magical Himalayan appeal. Families schedule a trip between May and June, while snow enthusiasts prefer December and January. It's a terrific idea to visit Manali in March or April when there are fewer tourists (unlike the rest of the year).
Kasauli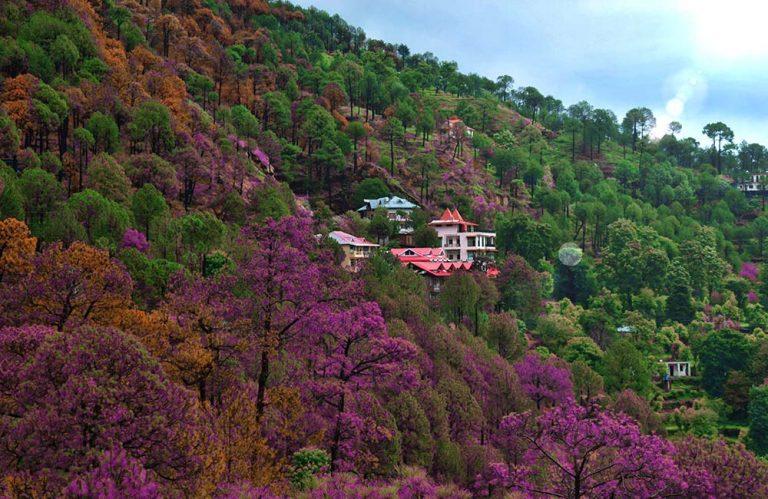 Despite its small size, Kasauli is a charming hill station that draws tourists. It is dotted with small, gabled houses from the colonial era. While Monkey Point is recommended if you want to see extensive forests of Himalayan oak and horse chestnut trees, Christ Church is a distinctive attraction with its green roof and stunning stained glass windows. In addition to being generally lovely and the best vacation places in April, Kasauli hosts events like the Blues Festival and Kasauli Rhythm.
Pachmarhi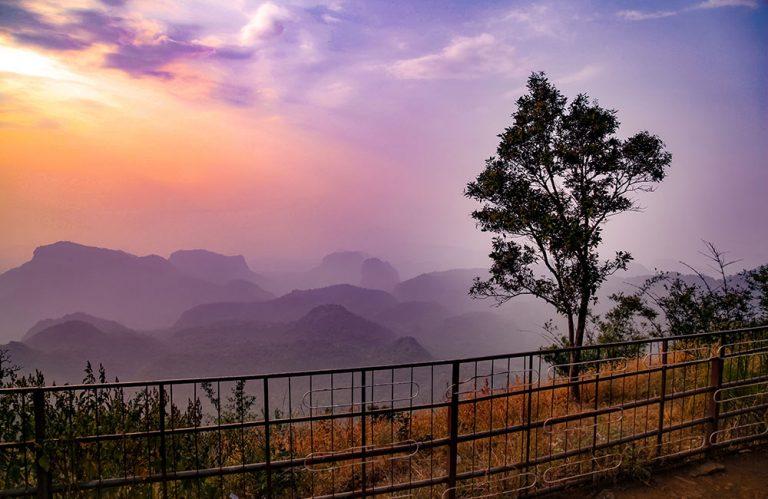 For its biodiversity, lush, emerald forests, softly undulating valleys, beautiful waterfalls, and the Satpura Tiger Reserve, nature lovers throng to Pachmarhi. This is one of the best vacation places in April. The murals in these ancient Pandava Caves, which were cut out of sandstone, are renowned and are said to have been created some 10,000 years ago. At 1067 metres above sea level, Pachmarhi is one of the greatest travel destinations in April in India.
Kalimpong
At an elevation of 1250 m and perched over the emerald-green Teesta River, Kalimpong is one of the top tourist destinations in India in April. Due to its picturesque setting, serene ambience, distinctive architecture, and Buddhist scriptures, Durpin Monastery maintains a special place in this context, while MacFarlane Memorial Church serves as a reminder of the British colonial era. Colorful flowers that grow either at home or in the wild also astonish the senses in Kalimpong. In addition to the exquisitely maintained gardens, a trip to Deolo Park is advised if you wish to take in panoramic views of lush valleys and rolling hills.
Shillong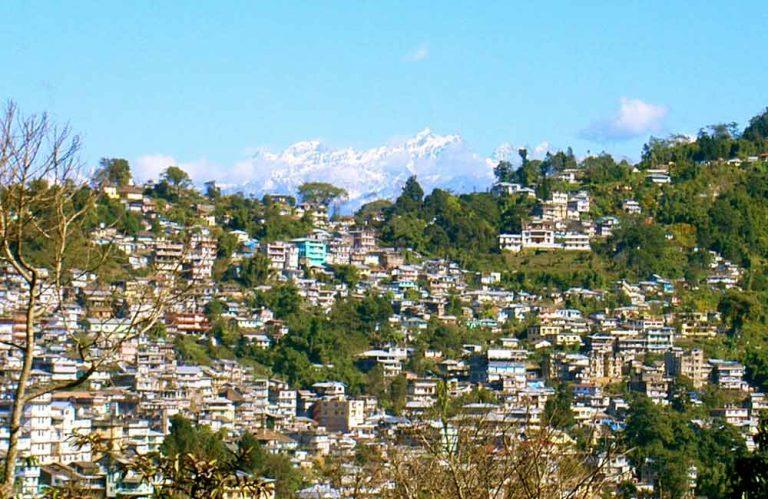 Since the British era, Shillong, the capital of Meghalaya, also known as "The home of clouds," has been referred to as the Scotland of the East. It gives a pleasurable experience and is known to be the best travel destination in April amid verdant hills, bubbling waterfalls, picturesque lakes, and dense pine forests. At Elephant Falls, Umiam Lake, and Laitlum Canyons, you can relax while taking in the scenery. At Elephant Falls, you can take in the cool views. David Scott Trail is the place to go if you're looking for thrills, and one of the local churches is the place to go if you're looking for spiritual fulfilment.
Nainital
Nainital, a well-known hill station with the serene Nainital Lake in the middle and hills covered in lush greenery, is located at a height of roughly 2084 metres. It is also known as the Lake District of India and provides visitors of all kinds with a wide range of thrills and breathtaking experiences. You can take as many photos of the numerous lakes as you wish, seek spiritual fulfilment at one of the temples, take in panoramic views from one of the many lookout spots like Naina Peak, or visit Eco Cave Gardens for a unique experience to explore the animal-shaped caves. The fairly difficult ascent to the G B Pant High Altitude Zoo will be enjoyed by children.
Mussoorie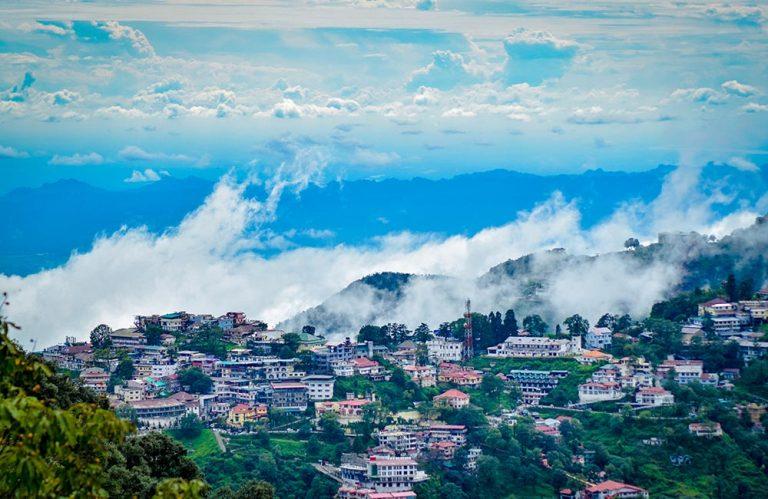 One of the top places in India to visit in April is The Queen of Hills, Mussoorie. Millions of tourists come to this high-altitude town in Uttarakhand every year for sightseeing opportunities, which include numerous magnificent waterfalls, attractive gardens, and charming shrines. If you want to escape the crowds and take your time seeing all of its attractions, April is the ideal month to go.
Cherrapunji
A picturesque hill town called Cherrapunji may be found in the Meghalaya region of the country's northeast. Every year, hundreds of tourists travel to this hill town to see the extraordinary "Living Root Bridges" that are created by the roots of rubber trees. This town has an abundance of flora and fauna, which makes it appear even more lovely and one of the top places in India to visit in April.
Bhopal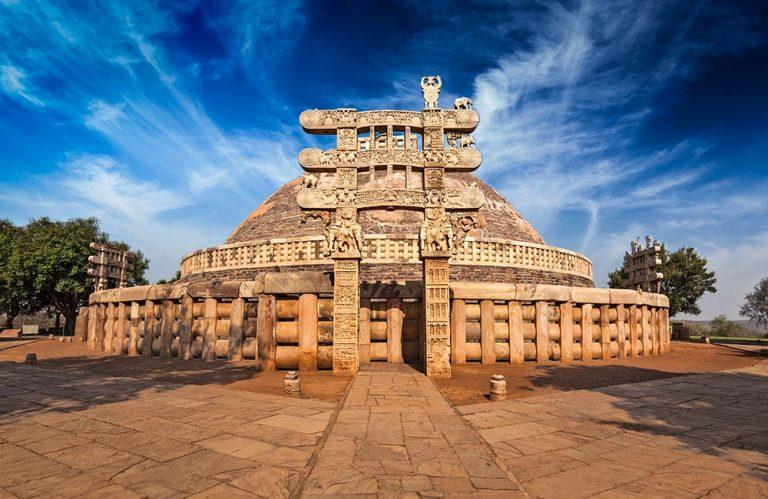 The capital of Madhya Pradesh, Bhopal, is regarded as one of India's greenest cities. It holds the moniker "City of Lakes" due to its abundance of lakes, the two largest of which are Bhojtal or Upper Lake and Lower Lake. Although October to March is often regarded as the best time to visit this lovely city, April is also an excellent time to visit Bhopal because the daytime temperature is comfortable and the evenings are delightful.
Lonavala
Lonavala, a well-known hill station and one of the best places to visit in India in April, is breathtakingly green. It is dotted with historic forts, lakes, waterfalls, and caverns. Lonavala offers both peace and excitement, for those who are looking. For history and art lovers, a trip to Buddhist caves like Bhaja and Karla is a must. The milky white water rushing furiously from Bhushi Dam here is both a significant crowd-puller and a delightful sight. Your Lonavala trip is going to be amazing because April temps are reasonable.
Kashmir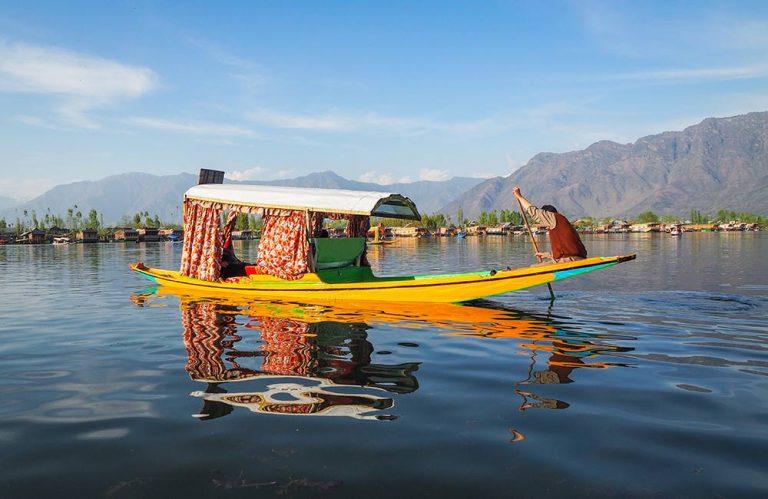 One of India's old princely republics, Kashmir is endowed with majestic mountains, serene lakes, and meticulously tended gardens. The beauty of Kashmir is enhanced to make it the best place to go on a honeymoon in India in April when the snow on the mountains begins to melt and the environment comes to life with greenery. Kashmir, which the Mughal Emperor Jahangir referred to as "Heaven on Earth," is the best travel destination in April with your loved ones.
Andaman and Nicobar Islands
The Andaman and Nicobar Islands, which are made up of about 300 islands, are the best vacation places in April because of their turquoise waters, white-sand beaches, lush tropical foliage, beautiful coral reefs, and rare marine species. Especially at sunrise and dusk, the unspoiled Radhanagar Beach, Chidiya Tapu, Havelock Island, and Neil Island are guaranteed to entice nature lovers and photography aficionados. It is highly recommended to visit Barren Island for its volcano or Baratang Island for its limestone caves if you're looking for excitement.
Rishikesh
One of the greatest and best travel destinations in April in North India is Rishikesh, a special pilgrimage town with Hindu sages chanting prayers, stunning temples dominating the local population, tranquil yoga ashrams, the strong and holy Ganges flowing endlessly, and the picturesque Himalayan backdrop. Rishikesh has much to offer everyone, whether they are interested in spirituality, the outdoors, adventure or the dramatic Ganga aarti. A visit to Triveni Ghat for some peace and quiet and the Neelkanth Mahadev Temple for heavenly blessings are also required, in addition to a stroll along the Laxman Jhula and Ram Jhula.