14 Best Places to Visit For Holi Celebration in India in 2023
India is a country full of vibrant culture and traditions, and Holi is one of the most widely celebrated festivals here. Every year, people from all over India come together to celebrate this joyous occasion with great enthusiasm. If you are looking for some extraordinary places to visit for Holi celebrations in India, then look no further! Here are some amazing destinations that will make your experience even more memorable:
Mathura, Uttar Pradesh
This place is located on the banks of the Yamuna river in Uttar Pradesh it is considered one of the holiest cities by Hindus due to its association with Lord Krishna's birthplace. During Holi Festival in India here you can witness traditional rituals like Lathmar holi where men from Barsana village visit nearby Nandgaon village and women chase them away using sticks known as lathis! This Indian Festival ritual has been going since centuries making it a truly special experience if you happen to be around during the Holi season.
Vrindavan, Uttar Pradesh
Another famous pilgrimage top destination in India associated with Lord Krishna's childhood days also celebrates this vibrant festival every year. The streets here are filled up with people playing colourful powders, singing devotional songs along with mesmerizing performances by local artists. In addition, devotees visiting Banke Bihari temple get a chance to apply colour powder ( abir ) directly onto the deity which makes their devotion even more special!
Barsana, Uttar Pradesh
Situated near Vrindavan it holds great significance in Hindu mythology especially because Radha was born there and later became consort or beloved companion & friend of lord Krishna. Here too apart from regular Holi celebrations in India, people indulge themselves in some amazing activities such as Rang Barse which involves throwing colour water at each other while dancing joyously!
Agra, Uttar Pradesh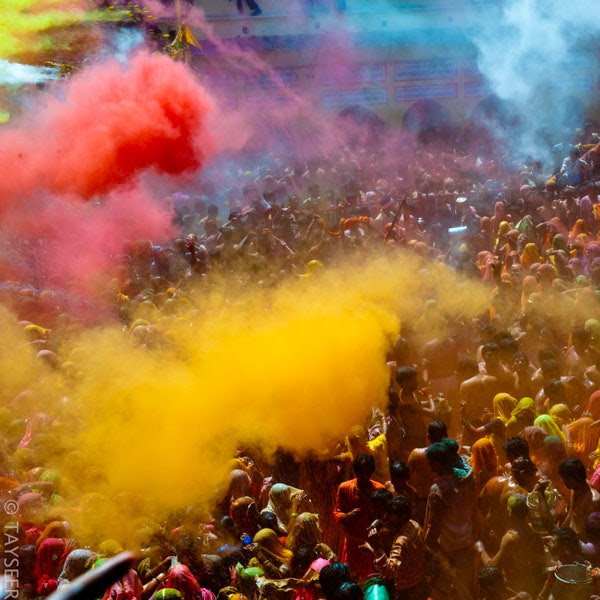 Agra's iconic Taj Mahal needs no introduction! This grand mausoleum was constructed by emperor Shah Jahan as a symbol of his love for his beloved wife Mumtaz Mahal and stands as one of the Seven Wonders Of The World today. During Holi celebrations in India here you can witness a spectacular display of colours along with traditional folk music performances which makes it a truly unique place to celebrate the Holi festival!
Hampi, Karnataka
Hampi is an ancient city located in the state of Karnataka that has been declared a UNESCO World Heritage Site due to its rich cultural heritage. During the Holi Festival in India here, people gather around bonfires and sing traditional songs while they enjoy delicious local cuisines such as dosa and vada pavs (Indian snacks). The atmosphere at Hampi during these festivities makes it one of the best places to visit during Holi festival!
Shantiniketan, Kolkata
Shantiniketan in Kolkata celebrates Holi for five days with lots of fun activities like painting competitions; folk dances; puppet shows; open-air theatre performances etc., making it the best place to visit during Holi festival for those who want something different from their usual holiday celebration plans. It's also very close to other major attractions like Victoria Memorial Hall or Science City which can be explored after enjoying some time at Shantiniketan's colourful fairgrounds filled with laughter & music!
Pushkar, Rajasthan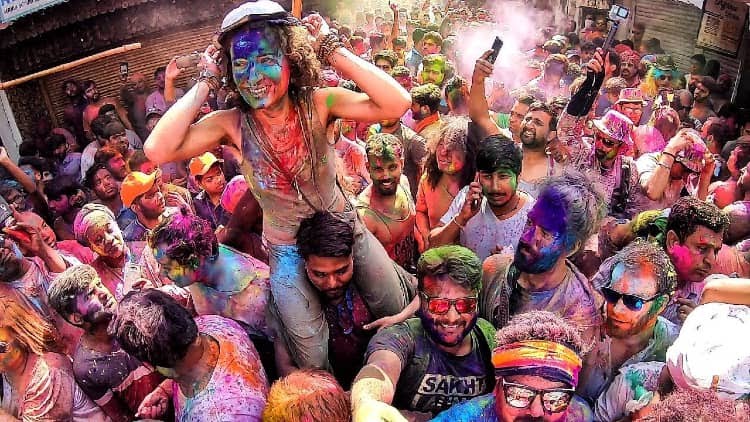 Pushkar Rajasthan offers visitors a unique experience when it comes to celebrating Holi in India for its beautiful temples along with colourful markets where locals sell everything ranging from jewellery items & clothes to handicrafts made out of camel leather - all adding up towards creating the perfect ambience for any celebration! This place also boasts many lakeside ghats where devotees take part in holy rituals during the festival season thus making Pushkar another must-visit this top destination in India for anyone planning their next trip around Holi Celebration In India!
Udaipur, Rajasthan
Udaipur has been described as one "of the most romantic spots on earth" by Rudyard Kipling-and rightly so! With its beautiful lakeside palaces, gorgeous temples & monuments along with historic havelis and also it is a unique place to celebrate the Holi festival - Udaipur provides ample opportunity for visitors looking forward enjoy their time during the Holi celebration in India here. Moreover, the city also offers various cultural activities like puppet shows & plays which add more fun to your festive experiences.
Jaipur, Rajasthan
Jaipur or 'The Pink City' is renowned worldwide due to its majestic architecture, and colourful bazaars full of rich heritage sites such as Hawa Mahal (Palace Of Winds), Amber Fort etc. It's also known to be called "The Festival City" because many festivals are celebrated throughout the year including -Holi! Celebrating Holi at Jaipur gives you chance to explore both the old and new parts city while enjoying yourself among locals who come out streets wearing bright clothes dance sing songs marking a joyous occasion! All these factors make jaipal a top destination in India for those wanting to immerse themselves in local cultural festivities during holidays!
Delhi
Delhi is one of India's most popular cities and a great place to experience this colourful festival. The city comes alive with people playing colours and dancing on the streets as they enjoy traditional snacks such as gujiyas and thandai. With its rich culture, history, art galleries and museums – Delhi has something for everyone during their stay here!
Mumbai, Maharashtra
Mumbai is another top destination in India when it comes to celebrating Holi in India in style. This bustling metropolis offers plenty of activities including live music performances at local clubs or dance parties at beaches like Juhu Beach where you can join thousands who come together every year for an electrifying atmosphere filled with joyous Holi Festival in India– all while taking part in age-old traditions such as smearing each other with gulal (coloured powder).
Purulia, West Bengal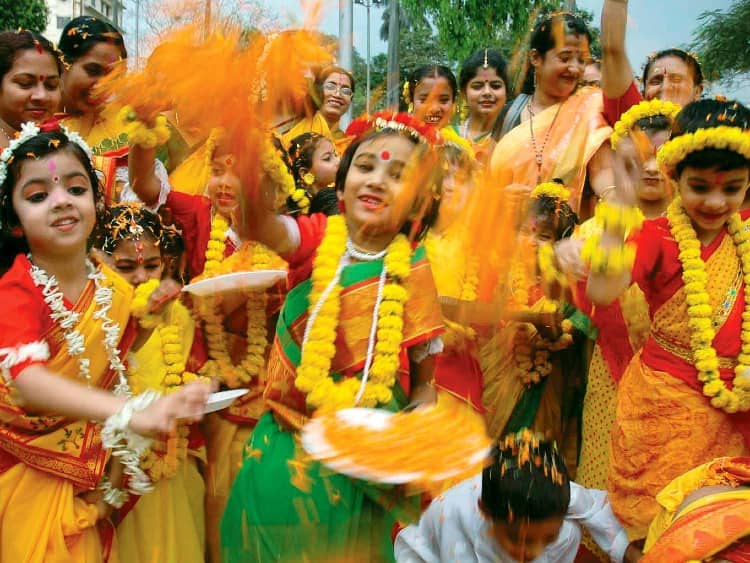 A small town located near Kolkata has become increasingly popular among travellers seeking out unique experiences during their visit to India. Surrounded by picturesque mountains covered by dense forests along with ancient temples dotting its landscape – this offbeat top destination in India provides visitors with an opportunity not only to take part in exciting festivities but also explore nature trails or go wildlife spotting around nearby national parks like Jhargram Wildlife Sanctuary & Tiger Reserve.
Manipur
In Manipur, Holi festivities start with people gathering around bonfires to sing traditional songs and dance together late into the night before they finally disperse to their homes early morning on holika dahan day (the eve of Holi). The next day starts with people smearing each other in colours as they celebrate this joyous occasion amidst much singing & dancing. The streets come alive during this time as everyone participates in merry-making activities like playing the drums, blowing conch shells & spraying water guns filled with coloured water at one another. Traditional folk dances are also performed by locals dressed up in bright costumes which adds more colour to this Holi celebration in India!
Anandpur Sahib in Punjab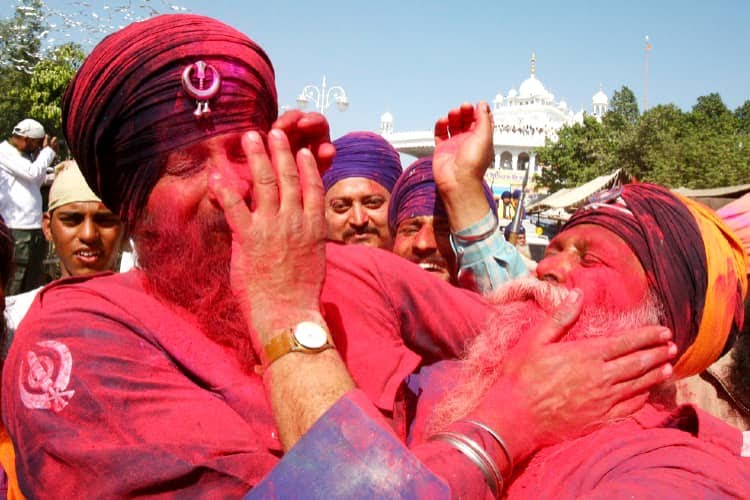 One of the extraordinary places that come to mind when thinking about celebrating Holi in India is Anandpur Sahib in Punjab which hosts a grand three-day event called Hola Mohalla every year before the actual day of celebration arrives. People come dressed up in bright colours and perform various martial arts exhibitions along with playing musical instruments while they also enjoy delicious local food delicacies throughout their stay here at Anandpur Sahib making it an unforgettable experience each time they visit here!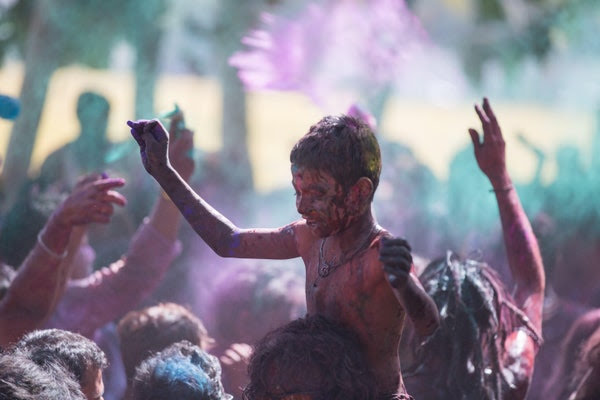 No matter where you choose for celebrating Holi in India–it sure becomes a memorable experience lifetime thanks country's diverse landscape and amazing locations that offer something to every traveller! So don't wait any longer start planning a trip now get ready and indulge yourself with vibrant colours and cultures around the nation!